Baby Musk Coin, a meme coin, has tanked nearly 100% after a rug pull. The token raised $2 million in its ICO, promising to revolutionize meme coins.
The Baby Musk Coin, named after Elon Musk, appears to be undergoing a rug pull as the price has tanked by nearly 100%. Reports emerged that the developer of the project dumped the tokens, causing the price to drop by a large amount. Holders of the coin are unable to sell the token, in what is called a honeypot.
The project even raised over $2 million during its ICO which took place in early February 2022. The developers behind the token went to some length to make the project seem legitimate, saying that they wanted to revolutionize the meme industry. The website of Baby Musk Coin, which is now offline, had a roadmap explaining future plans for the project.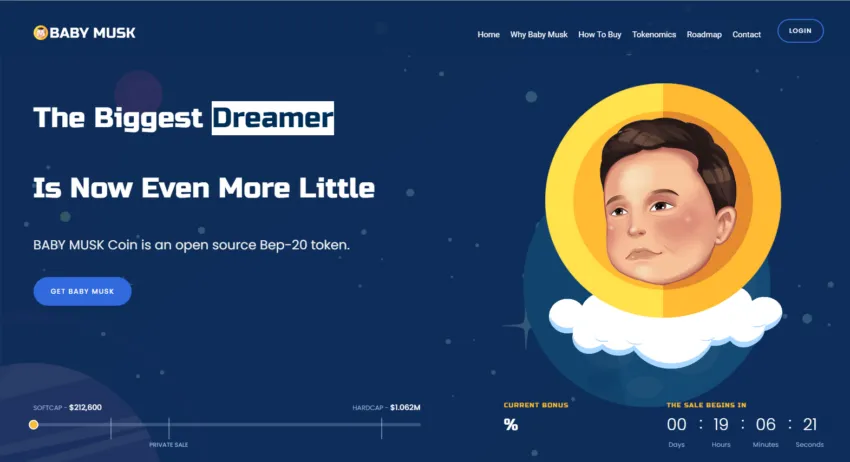 The token quickly saw a price bump when it was announced, and the apparent CEO Grant Liu said that it was "just the beginning." The project listed features such as an index fund and "Baby Musk Swap" as some of its features.
This is another scam in the long list of thefts that have been plaguing the crypto market recently. From Squid Coin, based on the popular TV show Squid Game, to fake Banksy NFTs, scammers have been using popular culture to prey on unwary victims.
Scams still a prevalent threat in 2022
Going forward into 2022, scams will continue to be a huge part of the crypto space as projects fight the problem. NFT scams, in particular, seem to be common at the moment, as bad actors are capitalizing on the increased interest in the niche. Besides fake artwork, NFT marketplaces are facing issues as well, with $2.2 million in Bored Ape NFTs stolen — which resulted in OpenSea freezing transactions.
Perhaps of more concern is the fact that the UN has reported that North Korea is funding its missile program with stolen crypto. The country was accused of targeting crypto exchanges, with Chainalaysis saying that it has stolen at least $400 million.
Education and awareness are the most effective ways to combat scams. With regulation incoming this year, better investor protection laws may also help prevent loss.
Disclaimer
All the information contained on our website is published in good faith and for general information purposes only. Any action the reader takes upon the information found on our website is strictly at their own risk.