XRP price reversed the minor gains charted on Monday, falling by 0.12% as the week began, but some key on-chain signals pointed towards volatility building in the XRP market. 
XRP price gained some ground over the weekend, but Monday blues brought price action back to the $0.38 mark. At the time of writing, however, XRP price gained 0.69%, trading at $0.39. Daily trade volumes for XRP were up by a staggering 40.98% sitting above $893 million. 
Some on-chain developments around XRP kept Ripple traders and investors on edge. However, can these on-chain strides change the fate of XRP price?
XRP Daily Active Addresses Skyrocket 
XRP trade volumes saw a steady rise, showing that retailers were up to something. While there wasn't a notable retail euphoria that could aid price action, the volume rise could lead to higher retail-induced volatility for XRP price. 
Alongside higher trade volumes, the XRP daily active addresses (DAA) noted a significant spike appreciating by almost 200%. XRP DAA was making higher highs since Nov. 30, and appreciated from 51,161 on Dec. 4 to 161,000 at the time of writing. 

While XRP volatility noted a slight drop, it was still at high levels. The same could mean that some significant market price swings can be expected as more participants have now moved the XRP price.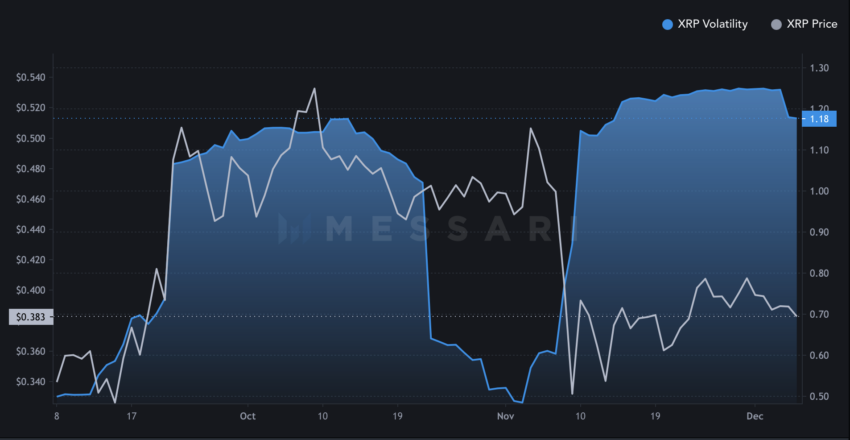 Ripple Whales in a Quandary 
While retail participants made some peculiar moves, Ripple whales still seemed suspicious of the XRP price. A recent alert from Whale Alerts suggested that 35,000,000 XRP worth $13,629,832 was transferred from an unknown wallet to Bitstamp.
On Dec. 5, a few other updates suggested that 35,000,000 XRP worth $13,716,100 was transferred from an unknown wallet to Bitstamp. 
Generally, whales sending coins or tokens to exchanges point towards either redistribution or liquidation. 
In addition to that, on Dec 3., 143,000,000 XRP worth $56,521,050 was transferred from an unknown wallet to an unknown wallet. 
With Ripple whales making some moves in the market, the same can lead to short-term price changes in the spot market. However, the futures market for XRP don't seem bright. XRP open interest (OI) in the perpetual market slumped by 0.89% while futures OI dropped by 1.40%. 
Even though the funding rate was positive, over $509,100 worth of XRP longs were liquidated in the last 24 hours, spelling trouble for bulls. Ripple holders can expect volatility in the short term, but a bullish swing can place price action above the $0.40 mark. In case of a pullback, the XRP price can revisit the lower $0.37 mark.
Disclaimer
BeinCrypto strives to provide accurate and up-to-date information, but it will not be responsible for any missing facts or inaccurate information. You comply and understand that you should use any of this information at your own risk. Cryptocurrencies are highly volatile financial assets, so research and make your own financial decisions.